Introduction
Hi friends today in this post I will explain about how to make money online by completing installation task on cashadda application with proof. In this post I will clearly explain about the installation procedure, refer and earn method and also the withdrawal conditions and proof.
How to register on this application
This application link is given below just click the link and install the application after completing the installation procedure you need to sign Hindi supplication designing process is very simple you just need to be a sign in with Google option and select your Google account then complete the sign-up process. After completing the signup process you can claim the daily check in reward. To climb the reward just from the claim option and get one rupees daily second reward. Now you need to enter the refer code and save then only you get sign up bonus 5 rupees. The referral code also given below just copy refer code and paste it then save.
How to complete task on this application
In this application you need to complete installation offers and real cash. Before installing the application you need to read the installation procedure and install the application by the given instruction. You only need to install the application that is not already installed on your mobile. After installing the application you need to to register on this application and wait at least 5 minutes then back to the cashadda application and go to offer status option and check whether your installed application is shown in the offer status. After showing your installed app in offer status option you get reward within 5 to 10 minutes. After completing all offerwall task ok they provide new offers so that you can earn by completing new offers.
App Link

👇
Refer Code :
31B16EEB9B
Refer and earn
Indus application they provide refer and earn program so that you can refer your friends and family to this application and 8 rupees for one successful referral. The successful referral means your referred friend must complete 5 offers then only it will count as successful refer and you get 8 rupees as referral bonus. To refer your friends just click be invite now option and share your referral link to your friends through WhatsApp Facebook and other social media platform.
Payment Proof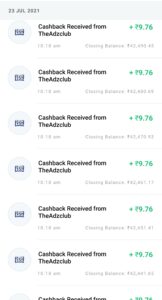 How to withdraw
To withdraw your earnings just click the menu option and click the wallet option then enter your Paytm number and required amount to withdraw then click the transfer now option. In this application you can withdraw minimum 2 rupees but you need to complete at least 3 hours to make a withdrawal request. In this application you can withdraw maximum 10 rupees in one time but you can make withdraw request many times in one day. After submitting your withdrawal request it will be process instantly.